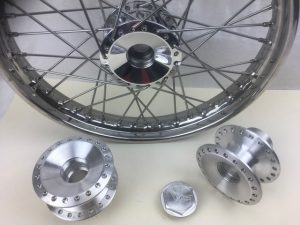 Billet CNC machined polished high strength front wheel hub conversion,  Existing Triking wheel hubs replaced with the latest strongest design wheel hub utilising 4 bolt brake disc fitment and screw in type hub cap, This option is particularly beneficial on early Triking models with cast hubs which can be prone to instability and / or to facilitate fitment of later type brakes. Can be supplied in component form or included in a full wheel re-build service with choice of replacement rim if required.
Suitable for all Triking models.
Price from £100 per wheel.