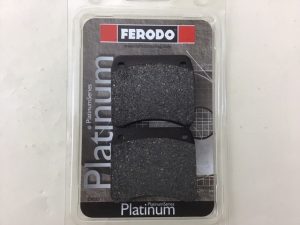 Ferodo Brake pad set, Front fitment, We have found these to be the ultimate performance brake pad for a Triking in road going conditions, When driven hard or fully loaded touring in wet or dry conditions these pads provide predictable, progressive and powerful braking.  Fit all Triking Type 1,2 and 3 models with Brembo, Grimeca, AP or generic calipers, also work equally well on either cast iron or stainless alloy brake discs.
Price shown is for an "axle" set of pads -ie enough pads for two calipers.
The same pad is also available in a more aggressive race compound but is generally better suited to competition use due to the consistent higher operating temperatures required to achieve optimum performance. Prolonged use of this "race" compound will result in accelerated disc wear and produce more noise when the brakes are applied.